Xiaomi, sometimes referred to as the Apple of China, is known for its smartphone products. Like Apple, however, Xiaomi wants to be known for being more than just a hardware company.
Understandably so. In many countries, smartphones have gradually become a commodity. Smartphone users are simply happy with their current device and aren't rushing to upgrade to the most recent model.
In fact, in spite of double-digital growth in some emerging markets, like India, global smartphone shipments fell by 1% year over year in 2017, according to the International Data Corporation (IDC).
Xiaomi has already taken strides in establishing itself as more than a smartphone maker. The company has launched a range of software and internet services in its home market, including the Android-based MIUI operating system. And just last month, Xiaomi introduced its artificial intelligence (AI) voice assistant, Xiao AI, which comes pre-loaded on newer smartphone models.
The company has also shifted its focus to digital content, which makes sense given that consumers in China have shown an increasing appetite for paying for it.
eMarketer expects that there will be 432.9 million smartphone video viewers in China—excluding Hong Kong—this year, making up 31.3% of the population.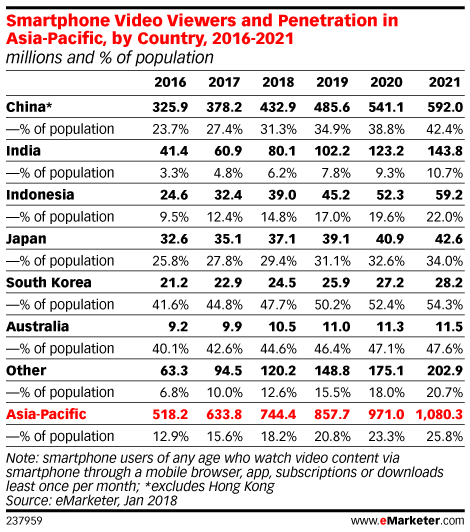 By the end of the forecast period in 2021, we expect that audience to reach 592.0 million.
Source: emarketer.com; 24 May 2018