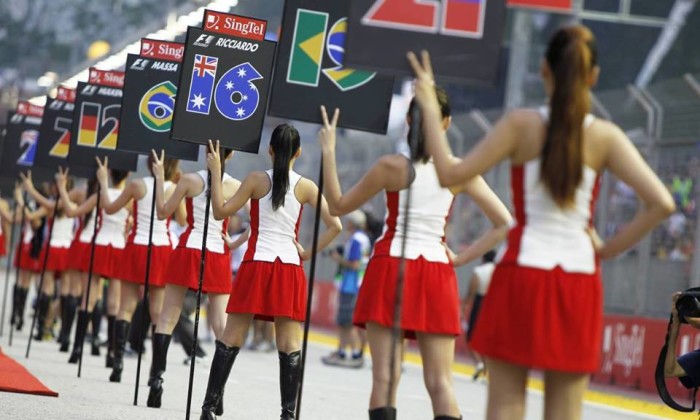 FormulaOne (F1) has revealed that it will end its practice of using walk-on grid girls in its races. The move will take effect during the 2018 FIA Formula 1 World Championship season, and also apply to F1's other motorsports series taking place during Grands Prix weekends.
Confirming the move in a press statement, Sean Bratches, managing director, commercial operations at F1 explained that the organisation did not believe the practice is "appropriate or relevant" to old and new F1 fans across the world. He added that while the practice of employing grid girls has been a staple of Formula 1 Grands Prix for decades,
The move also follows a review of areas the organisation felt need updating to be more in tune with its vision for the sport. The statement added that F1 considers the time spent by teams and drivers on the grid before a race as one of celebration. This allows guests and various performers to add to the "glamour and spectacle" of the Grand Prix, enabling promoters and partners to showcase their countries and products. The new F1 season begins on 25 March 2018 with the 2018 Formula 1 Rolex Australian Grand Prix in Melbourne.
While lauded by woman sports groups such as Women's Sports Trust, the move received mixed reactions from netizens, majority criticising F1 for putting the grid girls out of a job. The organisation was also criticised for bowing to societal pressure.
Closer to home, the use of grid girls in the Grand Prix was a common occurrence back when Singtel was a title sponsor for the F1 race. The selection process was one garnering media attention, going as far as producing an entire pageant-style competition in 2009 to name top 21 girls who will lead the pack on race day.
According to a 2009 press statement from Singtel, the active sporty girls aged between 18 and 26 were also selected to Singtel Grid Girls on Tour programme running that year on Mediacorp's Channel 5. This was on top of grid girl duties. After Singapore Airlines took over the title sponsor role, grid girl duties fell on existing SIA cabin crew for representation at the F1.
Most recently, Singapore GP and Singapore Tourism Board (STB) revealed they will continue to host the FIA Formula 1 World Championship for four more years from 2018 to 2021. In Malaysia however, F1 did not get its contract renewed, a move confirmed by Tourism and Culture Minister Datuk Seri Nazri Aziz. This was primarily due to high costs of hosting the race without justifiable returns to the country, as well as a drop in ticket sales and TV viewing figures, according to several local media reports.
The move also follows recent steps F1 has taken to refresh its brand image. In November 2017, F1 revealed a new logo as the first step in its rebranding along with a new mission statement. While the management at F1 was positive about the new logo, fans however, did not share the same sentiment. Months later, F1 was met with trademark trouble after its latest logo was said to contain striking similarities to one used by 3M for its Futuro product line of compression tights.
Source: marketing-interactive.com; 1 Feb 2018